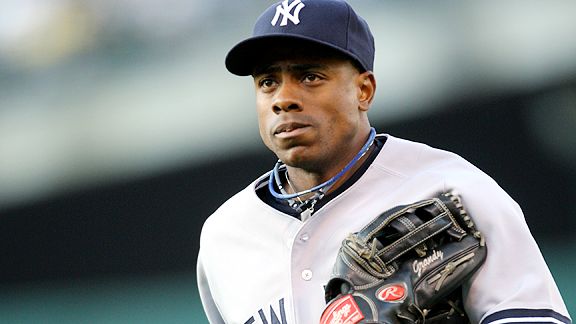 Michael Zagaris/Getty Images
In the Pro's Questionnaire, our favorite sports figures take our abridged version of the most famous personality test, the Proust Questionnaire. New York Yankees center fielder Curtis Granderson is up next. The 2009 All-Star and Twitter fiend (@cgrand14) puts down his iPhone long enough to tell us why he loves Thanksgiving, hates complainers and wants to be the Fastest Man In the World.
Your main fault:
Curtis Granderson: The inability to say no. That would probably be the big one. It's actually my New Year's resolution for last year, and a little more this year -- just doing more things for myself.
Your idea of happiness:
CG: Being with my friends and family. My friends are an extension of my family. We've been around each other for a very long time, and we know a lot about each other.
Your idea of misery:
CG: That would be a tough one. Not too sure on that one. Let's come back.
If not yourself, who would you want to be?
CG: I would say Michael Jordan. Just watching him growing up and having that athletic ability. If not him, actually I saw a shirt yesterday that said "Fastest Man In the World." I think that title is probably the best title that you could have. Better than strongest man in the world or baddest man in the world, fastest man in the world is a pretty good title to have.
• To read the rest, check it out here on espnW.