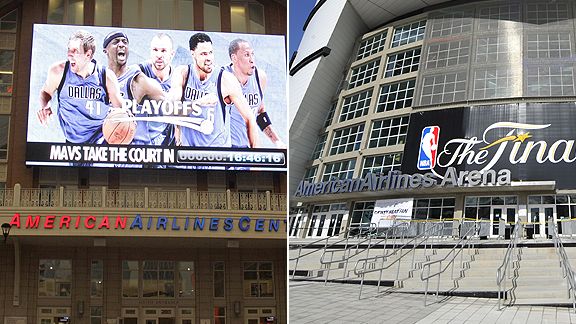 David Dow/Getty ImagesAmerican Airlines will benefit exclusively from arena naming rights during an NBA Finals.
So what exactly does it mean for American Airlines, having its name on the arenas and stamped on the courts of the two NBA finalists? Forgive the following pun.
"No doubt it's definitely a first-class ticket in naming rights," said Bill Glenn, senior vice president of Dallas-based The Marketing Arm.
The Fort Worth, Texas-based airline carrier no doubt is enjoying a dream matchup with the Dallas Mavericks and Miami Heat slugging it out for NBA supremacy for the second time in five years, even if the building names could get somewhat confusing.
The Mavericks ply their trade at American Airlines Center, and the Heat call AmericanAirlines Arena home. Yes, there's a space between "American" and "Airlines" in North Texas, while the words run together off South Beach. Both spellings are correct. That's corporate branding.
"American Airlines couldn't be more excited to have both of our buildings on the international stage that is the NBA Finals," said Dawn Turner, American Airlines' sports and entertainment marketing manager. "The additional exposure is great for our brand, customers and employees. Anytime we can be a part of something as big as the NBA Finals and share the passion our customers have for these two teams is a win-win."
Leveraging that exposure throughout the series is crucial, Glenn said. American has a unique opportunity to expand its customer base and deliver its message, especially within the two cities. Dallas/Fort Worth International and Miami International are both hub airports for American.