Listen, the Miami Heat are still too talented to lose the NBA Finals.
They just go through lapses in some games. They become too comfortable. Look how many times this season they were up by 15 or 20 points and lost. What else could be the reason?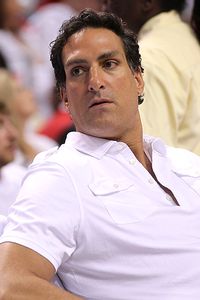 Mike Ehrmann/Getty ImagesAlthough the series is heading to Dallas, Rony Seikaly is still confident about his Miami Heat.
Remember, this is their first year together. They can only go up from here. They still are learning to play together.
And America loves to hate teams like the Heat. They love to build you up and then knock you down. America prefers the underdogs. And the Heat are far from an underdog team. They are the Goliath. The only way to get back into people's graces is to act very humble. And I'm not sure that'll happen.
Remember, the Boston Celtics and those Larry Bird teams were hated. But that's what happens when you see a dynasty building. People don't want that.
Obviously, Game 3 is going to be epic. You can't say die for the Heat, but that game is important. The Heat are a different animal this time around.
I think Dirk Nowitzki is a phenomenal player, and this season he's taken it up a knotch. He's spectacular. People are rooting for him. He's facing LeBron James -- the combo of Kobe Bryant and Michael Jordan -- on the floor.
I don't think Coach Erik Spoelstra needs to do anything to motivate the Heat.
After that loss, they are ready.
Rony Seikaly was drafted by the Miami Heat in 1988 and played 11 years in the NBA. He's now a real estate investor, records his own music and is a DJ. Check out his work here. He will write occasional columns for ESPN.com's Page 2.