MIAMI -- Myles Chefetz, owner of Miami's premier hot spot for athletes, received a text message from Drake just as he was in the middle of an incredibly entertaining story about how he covered for a NBA player who he suspects was cheating on his wife.
Chefetz summoned a waiter, informing him that Drake would be stopping by after midnight, so they would have to keep the kitchen open. The waiter sighed, because apparently Drake does this on a regular basis. It also meant the staff could forget about leaving early.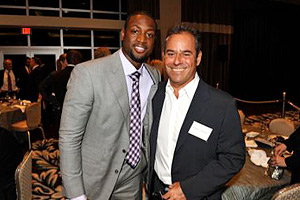 Myles ChefetzMyles Chefetz with one of his star clients, the Miami Heat's Dwyane Wade.
Now back to that story about the (alleged) two-timing NBA player …
Chefetz, who created Prime One Twelve and turned it into one the top grossing restaurants in the country, didn't disclose any names, of course. He just explained how this star NBA player brought his wife to his restaurant and the wife coyly questioned Chefetz about whether her husband had been to Prime One Twelve before, and if her husband was alone when he came.
"I don't know anything and I don't see anything," Chefetz said, laughing.
Yes, the player had been there with someone else, but Chefetz wasn't about to snitch.
Not to make light of infidelity, but this is just a minor example of why so many athletes trust Chefetz and why his restaurant remains their go-to spot.
Chefetz and Prime One Twelve have carved out a unique place in the sports world as the destination spot for the cool kids. Prime One Twelve was where Dwyane Wade watched "The Decision." It's where Chefetz introduced Chad Ochocinco to Bill Clinton.