How did you do in the Belmont Stakes? My horse, the longshot in the 12-horse field, was named Isn't He Perfect. He was not. In fact, he is crossing the finish line just about -- now. But another longshot, Ruler On Ice, won the race, demonstrating how differently they treat the athletes in racing.
Ruler On Ice is trained by Kelly Breen -- who had him castrated at the start of his racing career because one of Breen's assistants said the horse was "so nutty he was going to hurt someone." Couldn't you say the same thing about a lot of football players?
After the race, Breen said of his Belmont champion: "He wouldn't grow up. He's already a gelding and we can't castrate him again, so we put blinkers on him. Sometimes the bulb just goes on."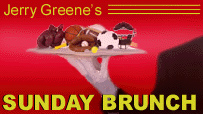 If castration was a legal practice in football, you've got to think a lot of bulbs would be going on without the need for blinkers.
And a few more thoughts from the week that was before we get to the main dishes in today's post-Belmont Brunch. And, incidentally, now that the Triple Crown races are over, you can forget about racing again until next May.
• Rest easy, there will be no Anthony Weiner jokes here. Yes, this is a Weiner-free zone.
• Charles Barkley has the Mavs, Dan Le Batard has the Heat. Loser has to wear a Speedo on South Beach. For the rest of us, this is a lose-lose situation.
• The cheapest seats at Fenway Park include a $4.25 convenience fee and a $7 processing fee. Seems to me that both fees are inconvenient.
• You should be about the right age to remember "Where in the World Is Carmen Sandiego?" from the '90's. There is going to be a reboot of the video game and TV show entitled "Where in the World Is LeBron James?"