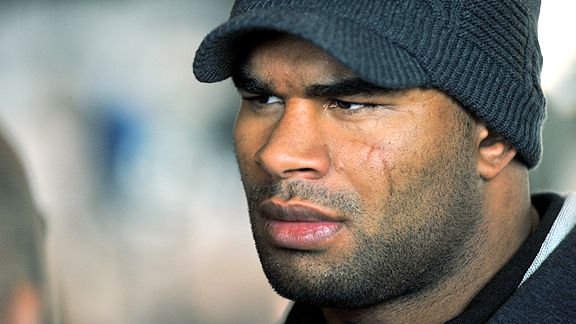 Henry S. Dziekan III/Getty ImagesThe scars on the face of Dutch Strikeforce champion Alistair Overeem were caused by a bar fight.
Strikeforce heavyweight champion Alistair Overeem has always been a fighter.
And we don't just mean in an MMA ring.
Check out those huge scars on his face.
"I was 15 years old and hanging out in bars in my home country of the Netherlands, and I was always getting into fights," said the 31-year-old Overeem, who is fighting Saturday against Fabricio Werdum in the Strikeforce Heavyweight Grand Prix in Dallas. "And this one guy broke a bottle in my face. I had to have 20 stitches through my cheek."
Overeem's brother who also is in MMA, Valentijn, figured that the fighting should be for something constructive. So he brought his younger brother to the gym to start lifting weights, learn kickboxing and mixed martial arts.
"I've always been a fighter and always competitive," said Overeem, who is now 6-foot-5 and walks around at 270 pounds. "But I then started to get more disciplined and [learned how to] not be such a rebel. My brother helped me focus to get out of trouble and get me in the right direction."
Overeem initially thought those skills would be used for a career in the military.
"I wanted to join the Army but my eyesight wasn't good, so I quit school and my job to just focus on fighting," said Overeem, who was born in England to a Jamaican father and Dutch mother. "I didn't want to just get deployed. I wanted to get in on the action."
And action -- although in the ring -- is what he got.
By the time Overeem was 19, he had his first MMA pro fight and then moved through the now-defunct Pride brand. He eventually improved his record to 34-11, becoming the Strikeforce heavyweight champion and K-1 World Grand Prix champion. On Saturday, he is taking on a vastly less-experienced but still dangerous opponent.
"I'm happy where I'm at now, but I want to show the world that I'm the No. 1 fighter," Overeem said. "I want to prove it the world. I'm focused and ready."