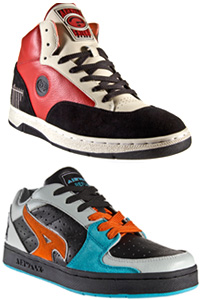 AirwalkMike V's Enigma and Sadplant Reflex reissues by Airwalk.
For those who don't remember the 1980s and '90s let's be clear: Airwalk was a big deal. But 25 years later, the once must-have skate shoe is trying to remind consumers who they are.
As Gen-X paved the way for Gen-Y, the brand went from the third most visible shoe brand, to, well, being sold at Payless Shoe Source. But a second wind may be brewing as the iconic skate brand is taking a page out of Vans' marketing book and going back to square one.
To celebrate the quarter-century mark, Airwalk is re-releasing twelve of its most popular and game-changing shoes.
"I think the evolution of skate product has slowed significantly," said Eric Dreyer, vice president of brand management at Airwalk. "You see a lot of reversion back ... skate getting back to its roots."
What's a better way to get back go your roots than relaunching old shoes?
"It's more of celebration than a relaunch," Dreyer says.
Sorry, a "celebration."