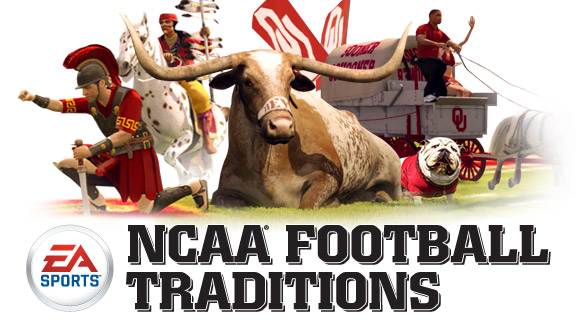 ESPN.com IllustrationYou have a chance to vote for greatest tradition
here
. My list isn't the same.
SportsNation and EA Sports are giving fans the chance to vote for which school has the best tradition in college football, compiling 16 of the best, represented in video clips from "NCAA Football 12," in a bracket-style tournament.
Every Tuesday (at noon ET), a new round of voting will open. Tune in to SportsNation (4 p.m. ET, ESPN2) for voting updates.
The vote is now down to the quarterfinals with the following matchups: (1) Notre Dame vs. (8) Georgia , (3) Clemson vs. (11) Michigan, (4) Florida State vs. (12) LSU, and (10) Oklahoma vs. (15) Nebraska.