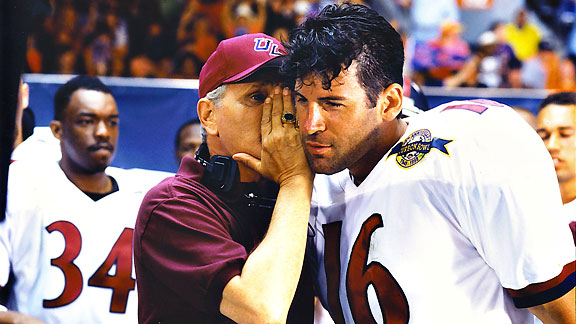 Touchstone Pictures Orlando Predators coach Pat O'Hara had a small part in "The Waterboy" with Adam Sandler.
For Pat O'Hara, the road to Hollywood wound through Orlando. O'Hara, a former USC quarterback who grew up in Santa Monica and is now an Arena League coach, also has a day job -- as a football consultant to the stars.
The Orlando Predators coach, who as a player led the Predators to two league championships, trains A-list actors like Adam Sandler, Jamie Foxx and Mark Wahlberg to look like gridiron stars. Surprisingly, he discovered the stars he worked with were great athletes and highly coachable.
"Actors are like sponges," O'Hara said. "They want to learn so bad. They will do everything you tell them to do, to a T. You have to be careful about every word that comes out because many of these high-profile actors are perfectionists."
This world did not open for O'Hara until he moved 3,000 miles from home to play for the Predators in 1995. There he met up with Sports Studio founder Mark Ellis, and in 1997, Ellis cast O'Hara in a small role in "The Waterboy" and later in "Any Given Sunday."
Getting that showbiz intro was all O'Hara needed to make the jump into an advisory role.
"He has that very calm, poised demeanor and he is able to relate that," Ellis said. "These guys don't want to fail. Pat inspires these actors to work harder. They all really like Pat. We leave the set and they end up sending Pat Christmas cards and they stay in touch. He becomes part of their family."
But working with the stars is only a small part of football consulting. Finding doubles, conducting training camps and drawing up playbooks are also part of the deal.
Finding the right fits to fill out a fictional football roster may be the most essential task associated with O'Hara's job. He must find players, officials, coaches and other extras to add to the realism of each film.