When I first saw Tampa Bay's Steven Stamkos get smacked in the face with a puck then return to the game later that same period against the Bruins (complete with badass cage mask), the first thing I thought was that the kid had some kind of invincibility code for his grill.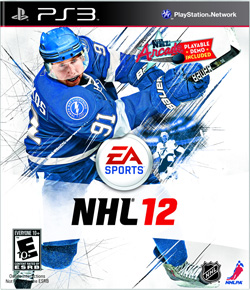 EA SportsYour new cover boy in action.
Weeks later I found out Stamkos might not be able to cash in his video game codes in real life (he's just that damn tough), but he did just cash in on a deal with EA Sports to be on the cover of the upcoming "NHL 12" video game, a franchise he's been playing for years.
"I've been playing the 'NHL' games ever since I can remember," Stamkos told me over the phone just before officially announcing the cover to the hockey world at the NHL Awards in Las Vegas. "Every year for Christmas, that's the game I asked for, and I usually got it, so to see myself on the cover is the ultimate honor. I'm really excited to be partnered with EA Sports. This is a game where, even last year, I went out and bought the game and played against the guys on the team and back home against friends.
"I still remember when I first came to the NHL and the game came out, I went straight to the store and bought a copy and tried to score as many goals as I could using myself. And then earlier today, I got to play 'NHL 12' and skate around as myself. It's cool to see yourself out there, see your strengths and weaknesses and how they're portrayed in the video game. I was pretty happy with my character this year, even if I wasn't winning too many faceoffs. I think they're going to have to adjust that before the game gets released."