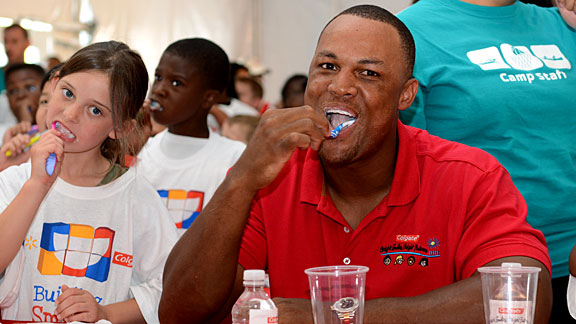 Kevin BrownAdrian Beltre helped kids "strike out cavities" by participating in a brush-a-thon with YMCA campers.
Texas Rangers All-Star Adrian Beltre spent Monday afternoon teaching children in the Dallas area about healthy hygiene habits as part of "Building Smiles Together" program for Wal-Mart and Colgate.
"My parents were always getting on me to take good care of my teeth and gums," said the 32-year-old Beltre, who grew up in the Dominican Republic. "You might think that would be hard because, hey, I was a kid. But whatever they said, I did."
The new initiative is dedicated to providing access to free dental screenings and oral health education to children in need. Colgate and Walmart are also offering free, trial-sized children's toothpaste to all families who visit the website here on Monday. Additionally, free dental health learning tools will be available online throughout the campaign.
"It means a lot giving back to my community," said Beltre, who this spring signed a six-year, $96 million contract with the Rangers after playing for the Red Sox (2010), Mariners (2005-2009) and Dodgers (1998-2004). "We want kids to think brushing their teeth is fun. It's no different with my three kids. We should show them something good will come of it."