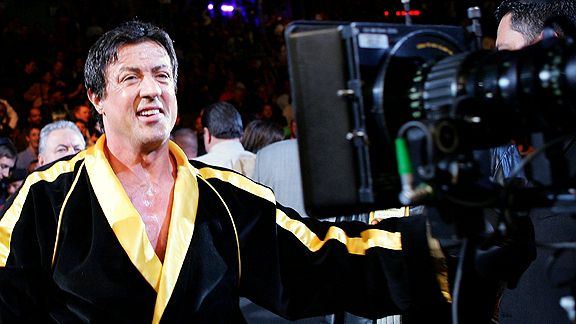 Jed Jacobsohn/Getty ImagesSylvester Stallone did what he had to do to maintain the excellence of "Rocky V" and "Rocky Balboa."
Unpredictable actor Charlie Sheen recently told Sports Illustrated that he used steroids while filming the 1989 movie "Major League."
This spurred Page 2's highly dubious network of sources to contact other sports movie stars to react to Sheen's confession. Here's what they report:
Ralph Macchio during "The Karate Kid" ... "I did a lot of Pop Rocks back then. Hey, the '80s were a crazy time."
Keanu Reeves during "The Replacements" ... "I was smoking a lot of weed during that movie. Same as during every movie I've ever done."
Sylvester Stallone during the "Rocky" movies ... "I didn't take steroids for any of them. Nah, just kidding. I took a ton of steroids."
Michael J. Fox during "Teen Wolf" -- "I blood doped with werewolf blood. Really. It exists. A lot of Tour de France cyclists use it."
Michael Holton (Chubby) during "Teen Wolf" -- "I probably took steroids. I mean, cattle are given steroids and my time off around the set consisted primarily of eating cheeseburgers."
Woody Harrelson in "White Men Can't Jump" -- "I didn't take any performance enhancers. I couldn't risk looking athletic."
Jon Heder in "Blades Of Glory" -- "I took a lot of estrogen to get ready for that role."
Buddy The Dog in "Air Bud" -- "I remember taking some heart worm pills during that movie."