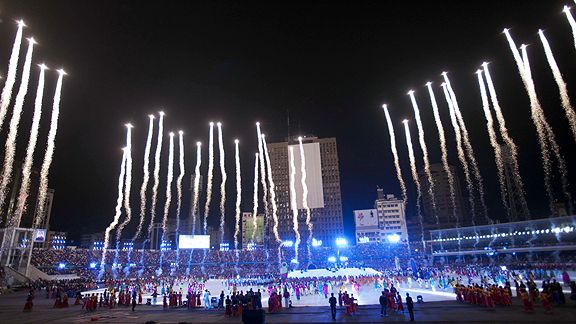 AP Photo/Kevin FrayerWhat other sports should consider fireworks? Poker? Bowling? Check out what the readers say.
This may be an inappropriate time to raise the question, but do we use fireworks too often in the world of sports? Once upon a time, fireworks were saved for special occasions. Now it seems as if crossing the street rates as special.
This July Fourth weekend, of course, is an exception. Fireworks are as much a requirement for this holiday celebration as are champion hot dog eaters, long-winded speeches and the Declaration of Independence. (Probably not as big in Great Britain as it is the U.S. of A., but work with us on this.)
In sports, however, we now expect fireworks every time a wrestler steps onto the ramp or somebody hits a home run or an Arena Football League quarterback throws his 12th TD pass of the night. Can you say "excessive"?
But the other key word here is "predictable." If we expect fireworks, they don't mean as much. That's why we asked you to come up with a list of sporting moments that don't include fireworks now but should. And you, as usual, responded:
Top 10 Other Sporting Moments for Fireworks
10. "At the end of all cricket matches but make them tasteful and don't interrupt the tea break," said Jo K. of Rock Hill, S.C. (This could be just what cricket needs to go bananas in the U.S. of A.)
9. "Every time David Stern correctly pronounces a foreign player's name," said BJ H. of Lowell, Ind.