Free Reign really is heavier than metal, featuring NFL offensive linemen Marc Colombo, Cory Procter and Leonard Davis. That's also the title of their full-length debut, released on their aptly named DC Rightside Music label.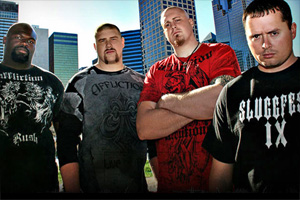 Courtesy of Chipster PRFree Reign are, from left, Leonard Davis (bass), Cory Procter (drums), Marc Colombo (vocals and guitar) and Justin Chapman (lead guitar).
The curiosity factor of three NFL players together in a band might seem like a contrived marketing ploy. But Colombo insists it's more than just a novelty, suggesting that their deep-rooted love of heavy metal has laid the groundwork for a possible second career after football. Some high-profile fans already agree, with Rob Halford, Zakk Wylde and Vinnie Paul on board the Free Reign train.
Free Reign formed in the Dallas Cowboys' locker room, when Colombo and Procter's jamming allured Davis, who then brought childhood friend Justin Chapman into the fold on guitar. So far, the demanding schedule of their NFL careers has limited Free Reign to playing mostly one-off shows in the Dallas area, including their recent Night To Support Our U.S. Troops event at Gilley's that was broadcast live on Ustream.
Juggling Free Reign around football hasn't been easy. It's been the carefully calculated use of offseason time that has allowed them to pursue their musical ambitions, says Colombo. But the 6-foot-8, 318-pound Cowboy says there are many similarities between the stage and line of scrimmage.
The Life: How grueling do you expect it will be to eventually tour with your band, compared with an NFL season?
Colombo: Wow, that's a good question. I think it will be tough, man. It's a totally different way of life. There are a lot of similarities, but getting out on the road and playing anywhere and everywhere, getting in a bus and that type of thing, we're used to doing that eight to 10 times a year, maybe more with preseason. But some of the bands I know and talk to are out on the road a lot. They don't have much time to go home and see their families and stuff.