I wasn't going to read it.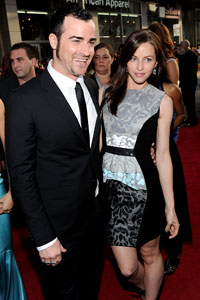 Getty ImagesThe happy couple before Jennifer Aniston got all up in their business.
As I skimmed the cover of the July 4 edition of Us Magazine, I looked at the headlines, figuring nothing in the issue appealed to me. "How Khloe lost 10 lbs!" (Uh, I assume it's from not having to eat arena food anymore since her husband, inconsistent Lamar, decided not to show up against the Mavericks, helping my Lakers get swept in the conference semis instead of playing in the NBA Finals despite having the best team in the league, talent-wise, as Kobe got a year older. But I'm totally over it, why do you ask?)
"Bachelorette shocker -- Bentley's Cruel Return" (I have no idea what this means). And "Hef's Heartache -- Dumped at the Altar" (I think Hef's gonna be OK).
Then I see the main headline.
"How Jen Stole Her Man."
Stop it. Seriously? I look again. Yes, seriously.
For those who are behind on their celebrity gossip -- and in fairness, this story has been fairly quiet -- actress Jennifer Aniston has been single for a while. As Kevin O'Leary breathlessly writes, "In the two years since her tortured love affair with John Mayer ended, her dating life had consisted of false starts with everyone from Bradley Cooper to Cougar Town's Josh Hopkins, so who could blame her for jumping in?"
Who indeed?
I figured it was obvious, but who knows, maybe I was missing something. So I read on. Here are the details: