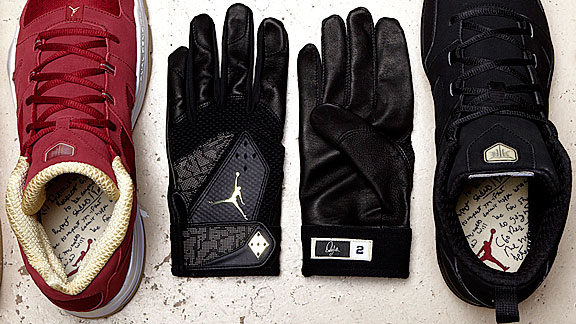 Jordan BrandThe new Jeter Cut line features insoles with a replica of a contract Derek Jeter signed with his dad.
Nike's Jordan Brand is celebrating Derek Jeter's run to 3,000 hits with a new collection to pay tribute, including a congratulatory Jeter Cut cleat, trainer, batting gloves and T-shirt.
The day before his first day of high school, Jeter signed a contract drafted by his father of tasks to help him toward his goals. The contract is replicated on the sock liners of both shoes. The labels on the back of the tongues include his contract signature, "I agree, Derek Jeter," as well as his high school number, 13, and current number, 2.
Jeter is expected to wear the cleats and batting gloves beginning Thursday night as he attempts to reach the mark.