Ohio State vacated its football victories from the 2010 season Friday, the latest indignity for a program rocked by scandal in recent months.
It remains to be seen what the NCAA will have to say in terms of potential penalties for the Buckeyes, who face a hearing with the organization's infractions committee Aug. 12. But there's one angle to this story that has been largely overlooked to this point.
What happens to Tressel, the Humboldt penguin who lives at the world-famous Columbus Zoo? Tressel is one of 10 Humboldt penguins at the zoo, and she's the only one named after a sports figure. Among the 10 are Tressel's parents, Hans and Katja, and her mate, Fritz. Tressel was born Jan. 22, 2003, less than three weeks after Ohio State beat Miami to capture the BCS national championship.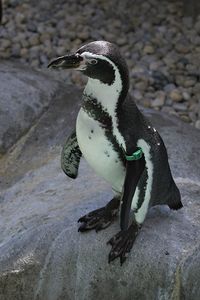 Columbus Zoo and Aquarium No matter your opinion of the Ohio State football scandal, the Page 2 staff urges you not to place blame on Tressel the Humboldt penguin.
In a nod to the journalistic efforts of Bob Woodward and Carl Bernstein, Page 2 examines the issue of whether the bird's name will be vacated by speaking exclusively with Patty Peters, vice president of community relations for the Columbus Zoo.
Page 2: Is the zoo considering vacating the name Tressel?
Peters: Absolutely not. People here in the community still love Jim Tressel. Granted, there's a scandal, but I think there's probably just as many people who still love Jim Tressel as not.
Page 2: Wouldn't the animal, the zoo, the state of Ohio and even the world at large be better served by renaming the bird after a distinguished Ohio State alum, such as Archie Griffin or Eddie George?
Peters: The bottom line is we love this penguin no matter what its name is, so there wouldn't be any reason to change the name.
Page 2: Do you feel like the name Tressel could potentially damage the animal's reputation or put her at risk for unwarranted scrutiny?
Peters: Tressel the female penguin has got a mate and reproduced chicks, so obviously it hasn't tainted her yet.
Page 2: But that was prior to the scandal, right?
Peters: Probably, but she's still very much a penguin in control.
Page 2: What if Page 2 offered to run a poll where our readers selected the new name from a list of candidates preapproved by the zoo?
Peters: We would not. I don't know this for a fact, but I would assume the animal has some name recognition and could be stressed [by changing her name].
Jack Hanna, the famed Columbus Zoo ambassador, is currently on vacation in the wilds of Montana and couldn't be reached for comment.
The ball is in your court, NCAA investigators.