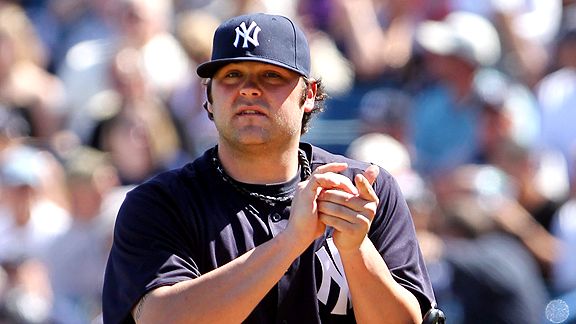 Kim Klement/US PresswireJoba Chamberlain's using his partially paralyzed father's good attitude as motivation of his own.
In the Pro's Questionnaire, our favorite sports figures take an abridged version of the famous personality test, the Proust Questionnaire. New York Yankees pitcher Joba Chamberlain is up next. espnW caught up with the reliever at a MasterCard Priceless New York event at Yankee Stadium, where he talked about his relationships with his father and son, staying positive and becoming a real-life Guitar Hero.
Your main fault:
Joba Chamberlain: Wow, that's a tough question. Way to start me off with an easy one [laughs]. I would say my main fault is just taking days off. Not only in the game of baseball but sometimes as a father and as a friend. There are days you get complacent and I think I can do a better job of that.
Your idea of happiness:
JC: I have two goals in life. One is to tell my family every day that I love them and to make somebody smile. A smile is something that exudes happiness and it's pretty much what I do every day.
Your idea of misery:
JC:Not being happy! Not being able to smile! Just not being thankful for what you have. Everybody is dealt a different hand. It's how you play that hand and you perceive that hand to be. I think that's being miserable -- not looking at everything as a positive.
If not yourself, who would you want to be?
JC: Probably my 5-year-old son. I only say that because if this world lived as 5-year-olds, it would be a better world. They show compassion but they hold nothing back and if we all could live like that ... I wish I could live like that.
Your favorite food/drink:
JC: That's easy -- steak. I'm from Nebraska. My favorite drink on a hot day is iced tea.
To read the rest, check it out on espnW.