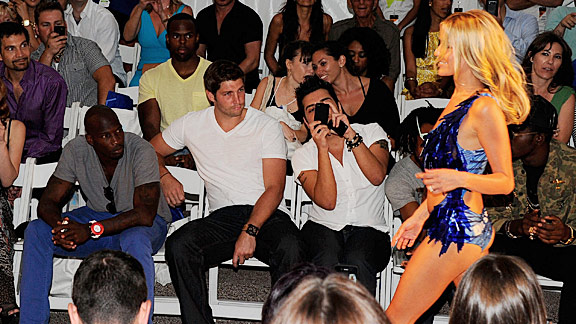 Andrew H. Walker/Getty ImagesChad Ochocinco and Jay Cutler watch Kristin Cavallari strut her stuff during Miami's Fashion Week.
MIAMI -- As if Chad Ochocinco needed to have more fun during the lockout.
He's already ridden bulls, gotten an MLS tryout, received a full Sprint Cup experience and pondered a reality TV show with fiancee, Evelyn Lozada.
And on Thursday -- when he normally would have been far away from his hometown of Miami, prepping for the coming season -- the NFL's busiest lockout victim was on South Beach, amid models and fashionistas as a special guest at the Diesel show and SKYY Vodka kickoff party, as part of Mercedes-Benz Fashion Week.
"I wouldn't miss it," Ochocinco said at the after party, which followed a show featuring model Kristin Cavallari (fiance Jay Cutler was in the audience, but didn't talk to Page 2).
All that fashion got the enterprising wide receiver pondering a tweet he sent out July 3, saying he wants to start a clothing line.
Now, this is still just an idea; he hasn't talked to anyone about it yet. But he's got some thoughts...
"[It] would be hard to do it on my own, but to probably join with say a Diesel or an American Apparel and have my own line through a bigger company and see how it does would be [really] awesome," he said.
Any specifics?
"It would called 'Dare to be Different.' It would be the initials 'DBD.' And it would be stuff [not everybody can] pull off. When I dress [people ask], 'What is he doing?' That's the whole thing, just to separate myself from the competition."
Currently Ochocinco sells t-shirts on his website (some NSFW, language), and Lozada created a shoe store called Dulce -- "so if I want to do something," he said, "she has her foot in the door already on how things work."
For now, though, it's just a thought -- one of many Ochocinco has had during this work stoppage, be it about his engagement ("We haven't set a date yet," he said), that reality show ("I might do something with [Evelyn]; I don't have control over that stuff," he said), or the lockout itself.
"I could care less about it," Ochocinco said. "I'm having a ball."