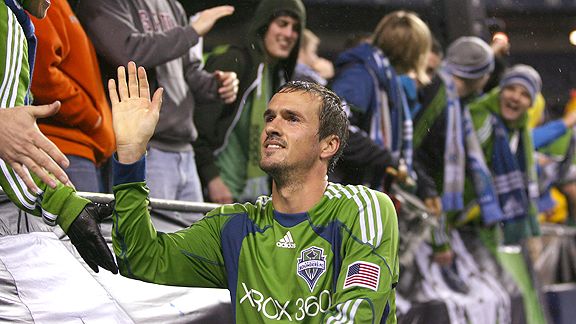 Tom Hauck/Getty ImagesWant to go on a date with this Seattle Sounders player Roger Levesque? You can, sort of.
Meet Roger Levesque.
He lives in Seattle and plays professional soccer.
He's loyal, has a great mustache, and can describe himself with one phrase: "30, flirty, and thriving."
And according to Seattle Sounders FC's latest ad campaign, you can go on a date with him.
Sort of.
In truth, that "date" involves attending a Sounders game, and perhaps meeting players like Levesque on the field -- no small event in a city that has shattered Major League Soccer attendance records, but not exactly a wining-and-dining experience.
But that was the whole point for Sounders and the Seattle-based advertising group Wexley School for Girls, who put together a series of fake dating promos for 2011, one that encompasses TV and Web clips, billboards, newspaper ads -- and even a page of mock personals in the local alt-weekly The Stranger.
Players included in the first wave are: Levesque, Brad Evans; Jeff Parke; James Riley; Leo Gonzalez (en Espaņol); Mike Fucito; and Steve Zakuani (available on Facebook only).
And to hear Levesque tell it, they were all into it from the start. (Even if Evans is married.)
"Absolutely," said Levesque, who admits he took that 30/flirty/thriving line from the Jennifer Garner vehicle "13 Going on 30," and added: "It's clever and it's catchy, and I think it's sparked some interest here in Seattle for sure."
Of course, there has been a little confusion -- because, you know, those videos actually look real.
"We knew that some people would want to [go on actual dates]," Wexley co-founder Ian Cohen said. "I think that was part of the plan, to make sure we took it over the top."
Over the top meant writing some of the lines -- no, Parke doesn't actually have a puppy named "Pain Machine" -- but also asking open-ended questions and got some honest (and funny) answers.
Now Wexley plans to expand the campaign through the end of the season, adding some new guys to the fold after the popularity of its first run.
And although there's not much chance of a real date with a Sounder...
"We joke around about it," Levesque said.
Hey, you never know.