Welcome back to another edition of Page 2 Jeopardy!, the quiz that tests your knowledge of sports, pop culture and assorted trivia. Please remember to phrase your responses in the form of a question.
Correct questions at the end of the quiz.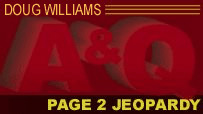 1. Answer: This NFL team will feature photos of fans on its game-day tickets this season, the winners of a "Your Story, Your Glory" contest about their love for the franchise.
2. Answer: The Cleveland Indians relief corps, anchored by All-Star closer Chris Perez, has come up with this nickname for itself.
3. Answer: This 22-year-old actress recently showed off a new, short haircut she said makes her "feel like a soccer mom," before quickly adding: "There's nothing wrong with soccer moms."
4. Answer: She took her team to the NCAA tournament in 2010, was her conference's coach of the year in 2010-11 and remains the only openly gay coach in Division I women's basketball, saying others are "just so afraid" to come out.
5. Answer: Catcher's ERA may be an arcane stat, but this major leaguer ranks No. 1 in the category among all regulars since 2007, at 3.67.
Question 1: Who are the Houston Texans?
Question 2: What is the Bullpen Mafia?
Question 3: Who is Vanessa Hudgens ?
Question 4: Who is Portland State's Sherri Murrell?
Question 5: Who is Jeff Mathis?