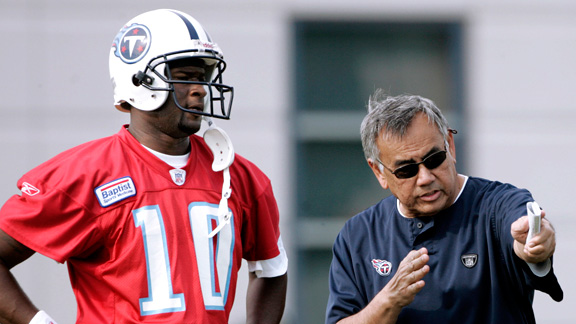 AP Photo/Mark HumphreyNorm Chow is a quarterback coaching genius. He worked here with Vince Young in 2006.
With the Dog Days of August about to oppress us, a nation turns its lonely eyes to, well, lonely eyes and floppy ears and wagging tails. It's time to another crack at the All-Dog Team:
Norm Chow: The Chow-Chow is said to be intuitive and trustworthy, two traits commonly applied to Norm Chow, an offensive whiz who develops quarterbacks the way Doritos makes chips. After 27 years at BYU, Norm has said "cheers" to a variety of teams in a nomadic decade. The list includes the NC State Wolfpack, and that's somewhat appropriate. The Chow is believed to be one of the oldest dog breeds and one of the first descendants of the wolf.
Locksley Collie: The former Texas Longhorn basketball player is a native of Panama, not Scotland, where the Collie is said to have originated. And a Collie is one of the mascots of UT's hated rivals, the Texas A&M Aggies. Forget all the apparent contradictions. This one fit quite well in Austin, helping the 'Horns to their first Elite Eight appearance in 1990.
Doggie Miller: George Frederick Miller seldom gave fans cause for catcalls in his direction. He struck out once every 33.7 at-bats, the 13th-best figure in baseball history and a number that timestamps his career. Miller played in the 19th century, when the K was rare in comparison to modern standards. His career number for strikeout avoidance would have led the Majors in 27 of the past 30 seasons.
Mark Spitz: The Spitz is a type of dog that includes several breeds, but in sports, there's only one Spitz, and that's Mark, the most decorated swimmer in history until Michael Phelps arrived three decades later. Spitz dogs tend to be good hunters, and Mark Spitz hunted medals with great success. In two Olympics, he competed in 12 events and medaled in 11 of them nine gold, one silver and one bronze.
Pointer Williams: The Pointer, an accomplished hunting and retrieving dog, is to the Westminster Kennel Club what Jerry West is to the NBA. A silhouette of a Pointer is in the organization's trademarked logo. As for Pointer Williams, he helped Tulane find basketball glory in the early 1990s. In just its third season of play following a self-imposed exile brought on by the most unholy alliance of cocaine and point-shaving, the Green Wave made the NCAA tournament in 1992 with Williams leading a group of reserves known as "The Posse."