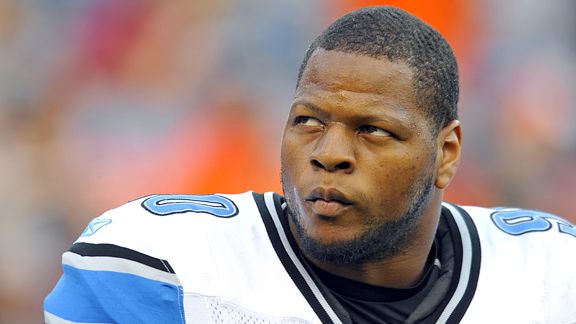 Ron Chenoy/US Presswire
In the Pro's Questionnaire, our favorite sports figures take an abridged version of the famous personality test, the Proust Questionnaire. Next up is Lions defensive tackle Ndamukong Suh, last year's AP Defensive Rookie of the Year, who is working with Battle Sport Science. He tells us about his unrealized potential in the classroom, his final thoughts before the football is snapped and his ironic need for personal space.
Your idea of happiness:
Ndamukong Suh: Being around my family and playing football.
Your idea of misery:
NS: Losing. Yeah, losing is definitely the biggest one.
Your favorite food and drink:
NS: African and Jamaican food. As far as mainstream food goes, I love Italian cuisine. My overall favorite dish is jerk chicken. As for drink, I love water. Fiji water.
Your main fault:
NS: My short temper. Yeah, definitely.
If you were not a superstar defensive tackle in the NFL, what would you be:
NS: Construction management engineer.