LOS ANGELES -- At 14 years old, Parks Bonifay stormed into X Games III in San Diego and captured gold in wakeboarding.
That was 1997.
Since then, wakeboarding -- a water sport in which an athlete, towed behind a motorboat on a lake, performs tricks on a wakeboard -- has come and gone throughout the Games. It was last held in 2006 at X Games 12 at the Home Depot Center, 10 miles south of Los Angeles.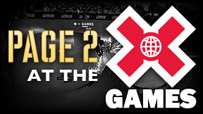 With X Games 17 centrally located in downtown Los Angeles, wakeboarding is back on the shelf.
And it's unclear when it might return.
"I really wish it would come back. It was always a lot of fun for the athletes and the fans," said Bonifay, a Floridian who showed up this week to promote his sport and support his action sports friends who are competing. "We really need to bring it back. And there are ways to do it."
Cable wakeboarding, in which the wakeboarder is not pulled by a boat but instead by an overhead cableski system, is growing in the United States. It can be done on a lake or even a pool. And the athletes still perform tricks. Unlike being behind a boat, in which they ride up the wake to get air, on the cable, the line builds up tension and flings the riders forward off ramps and rails.
Will that work for ESPN, which evaluates the sports disciplines after each Games and adds or subtracts events as warranted?
Some of the other sports sitting on the shelf include bungee jumping, downhill skateboarding, inline skating, street luge and surfing.
"I think it would be worth it to bring the sport back. It would change our strategy in a pool, but I can see it happening," said the 29-year-old Bonifay, who holds the Guinness World Records mark of youngest skier at 6 months, 29 days. "It's worked before and I think it can do it again. It's a perfect sport for live television."