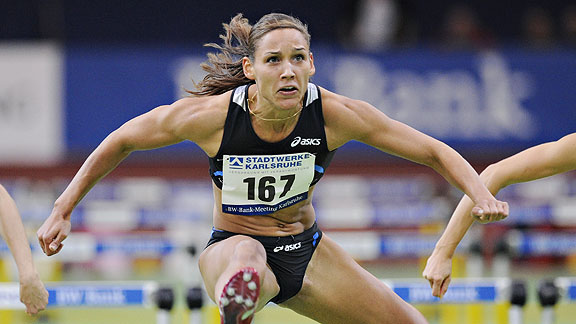 AP Photo/Daniel MaurerLolo Jones is meeting a lot of action sports stars this week in Los Angeles.
LOS ANGELES -- For track superstar and 2012 Olympic hopeful Lolo Jones, fans have an easy way to reach her:
"That's because I give out my phone number to everyone."
Wait. It's not what you think.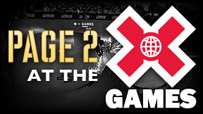 Jones considers Twitter her phone. She has about 26,000 followers (@followlolo) and spends a lot of time throughout the day conversing with her fans.
"I'm not addicted to Twitter or anything," said Jones, one of the best hurdlers in the world. "Then again, people with an addiction often say they are not addicted."
Jones' love of social media is one of the reasons she has made Sports Illustrated's list of the top 100 Twitter accounts, which they compiled by polling their staff to see who they consider essential to follow. And, although Jones' list of followers fail to compare to a lot of athletes, she is passionate about interaction.
"It's like I'm talking with my fans directly. I interact with them and see how their day is and I answer as many questions as I can," said Jones, 28, who lives in Baton Rouge, La. "I have a Facebook page but those messages are too long! I like the quick way of responding of Twitter."
Jones is in town this week to watch X Games 17, and, as part of her sponsorship deal with Red Bull, has an autograph session for fans.
"I love talking with these people about my sport, but in reality, I love listening to them talk about skateboarding and BMX and everything here," Jones said. "I did skateboard as a kid. I have as many bruises on my legs now as I did growing up on my skateboard. Frankly, I traded one big board for a very small one -- my hurdles."