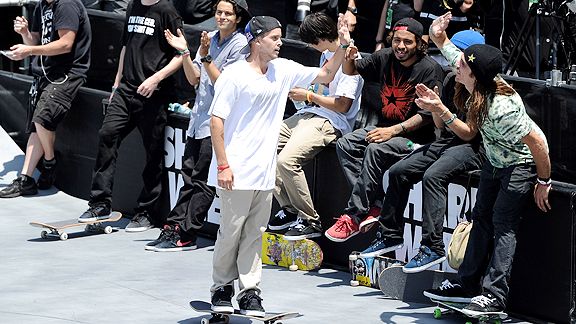 Harry How/Getty ImagesRyan Sheckler is looking to repeat as champion in skateboarding street.
LOS ANGELES -- Ryan Sheckler, the defending skateboarding champion at X Games, had just finished his qualifying round on Friday afternoon. It wasn't easy, as the 21-year-old California native struggled a bit and finished third heading into Saturday's finals.
"I was just trying to stay on the board," said Sheckler, who has won three X Games gold medals. "I'm a little nervous. I'm just looking to get better."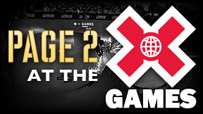 But, the interesting part was, right after the competition, Sheckler -- escorted by ESPN security guards -- was whisked across the X Games compound in downtown Los Angeles then spent the next hour signing autographs for about 200 fans.
Sheckler said he knows he'll need to make some adjustments to win gold again, but he wanted to spend time with his fans.
"They mean everything to me. I will sign all day if they ask me," said Sheckler, who has given up life in front of a reality show camera to focus on skateboarding. "These fans are there to support me, and I'm so appreciative of that."
And Sheckler agreed to sign anything. Seriously. Besides skateboards and hats, he signed a shoe, a wallet, a $1 bill and even a girl's arm.
Even as his handlers were trying to get Sheckler up to leave, he refused. Several times.
"I hate being the bad guy. I know the security wanted us to keep moving the lines and me not taking photos," he said. "But I was going to take every picture they wanted."
Sheckler finally got up, hung out with family then headed home.
"I just want to keep things going. I just love testing myself," he said. "Saturday will be a much better day. At least I hope it is."