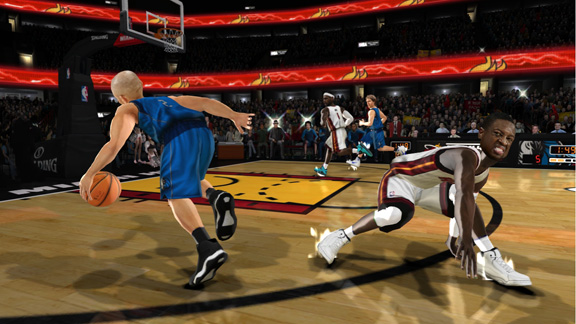 EA SportsJason Kidd has plenty of new tricks up his sleeve in "NBA Jam: On Fire Edition."
Dirk Nowitzki hits four three pointers in a row, rips the ball out of D-Wade's hands and pulls up to the arc. But before busting another triple in LeBron's face, digital Dirk does something, well, that you'd only see in a game like "NBA Jam" -- Dirk starts doing the "Dougie."
That's right, Dirk's doing the "Dougie" right there in the middle of the game just to taunt the Heat, then he goes ahead and hits his fifth three granny style to add even more insult to injury.
These are just some of the crazy things gamers will experience in EA's upcoming "NBA Jam: On Fire Edition," a download-only title that will be available for the Xbox 360 and PlayStation 3 this fall for just $15 and will include all new showboating Razzle Dazzle moves along with the ability to tag between ballers (the single biggest request after last year's game), enabling you to switch back and forth to control either player on your team.
Other gameplay additions include the ability to call for alley-oops, the ability to call for shoves (which can be used like picks on offense), as well as team fire that triggers after three consecutive alley-oops.
"We found online that when people were playing, nobody was talking," says the game's creative director Trey Smith. "So we wanted to add some more trash talking elements like team fire into the game, we wanted to add more showboating so if you're ahead of somebody by 10 points, you shoot a granny shot just to rub it in a little bit. You can even stop to tie your shoes if you want. We just want to give people the ability to express yourself in the game."