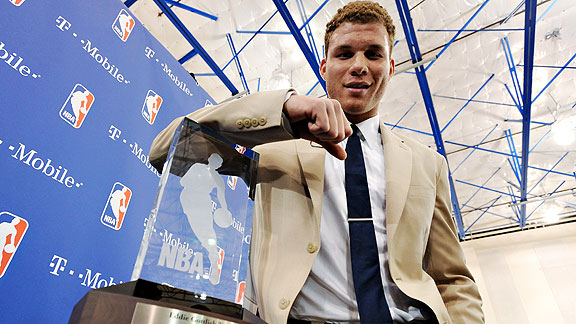 Andrew D. Bernstein/NBAE/Getty ImagesNBA Rookie of the Year and dunk machine Blake Griffin says he is open to playing overseas.
There was very little happening in the NBA when Blake Griffin livened things up around the TrueHoop offices by calling from a car somewhere in Oklahoma. He shared his thoughts about the lockout, playing overseas, surfing, his much-maligned owner Donald Sterling, his first time running a basketball camp, and more:
I'm so glad you called. I've been covering the NBA since '98, I can never remember a time where the NBA was more boring. I'm hoping maybe you can tell me something really exciting.
I wish I could. I can make up something if you want to write that.
It would really help if you, for instance, have got a mohawk and joined a volleyball league, like Kevin Love.
It's true. He's doing a service.
I might think of something. I just started to try my hand at surfing, actually.
How's it going?
Not too bad. Kind of easing into it. I'll let you know if I get any better.