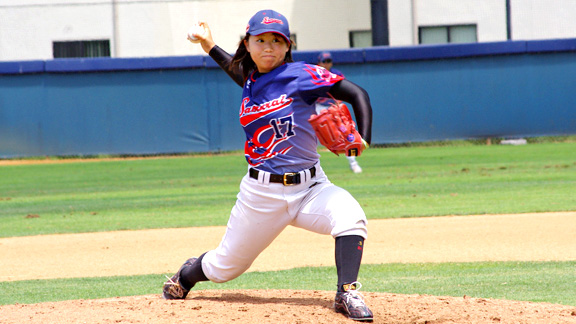 Courtesy Gideon Rubin Eri Yoshida, 5-foot-1 and 115 pounds, was inspired by Tim Wakefield to be a knuckleballer.
SAN DIEGO -- Eri Yoshida faced some formidable gender, cultural and language barriers when she surfaced in the United States last year to pursue her dream of becoming the first female major league pitcher.
The really intimidating part for the then 18-year-old, however, came when she first stepped onto a winter instructional league mound in Arizona. She saw what, compared to players in her native Japan, seemed like cartoonish body types.
"I was scared because the guys in the batter's box were so big," the 5-foot-1, 115-pound Yoshida said through a translator. "Their arms were bigger than my legs."
Yoshida didn't back down. She turned to what she knew: a self-taught knuckleball she developed after watching her idol, Tim Wakefield, on TV when she was 14. The pitch seemed tailored for the predicament she was facing.
"I could tell [Wakefield's pitches] were very slow and the big guys struck out a lot," Yoshida said. "That's when I started to get interested in the knuckleball. I didn't know whether or not I could do it, but I just wanted to try it."
Yoshida was a freshman at Kawasaki Kita High in Yokohama playing club baseball when she tried it after finding a book illustrating the proper grip. It worked well enough to land her a spot on her high school team as a sophomore, instantly making her a national sensation nicknamed the "Knuckle Princess" by the Japanese media.
"It was so weird," she said. "I couldn't believe I was on TV."
Her star has been soaring ever since.
Yoshida, now 19, is in her third year of pro ball -- her second in the United States (she was drafted out of high school as a junior and played independent ball for a year in Japan before coming to the United States). She is scheduled to make her first start Saturday night for Maui's Na Koa Ikaika team in the North American Baseball League at Maehara Stadium in Maui against the Edmonton Capitals. She'll be playing for Garry Templeton, who also managed her in 2010 at Chico (Calif.) in the independent Golden League.