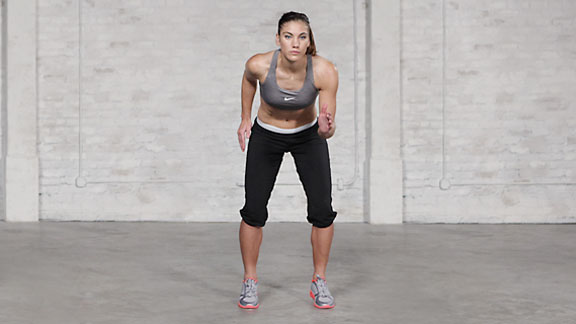 Nike Hope Solo has a 15-minute workout available on the Nike Training Club app on iTunes.
Want to try to get in as great a shape as Hope Solo, the butt-kicking goalkeeper for the U.S. women's soccer team?
Nike released a 15-minute workout by Solo on its Nike Training Club app on iTunes. The app caters to every level of fitness with more than 60 workouts.
For Solo, who is taking part in another Nike initiative called "Make Yourself," it's been a busy few weeks since returning from Germany, but she gave a few minutes to Page 2:
Tell us about the "Make Yourself" team.
It's a collection of incredible women at the top of their sports out to inspire other women. The team features USA track and field Olympian Allyson Felix, Chinese tennis player Li Na, Algerian-French dancer Sofia Boutella, British hurdler Perri Shakes-Drayton, Russian-born tennis star Maria Sharapova, Australian surfer Laura Enever and me. At my shoot, I met Laura and Perri and came away so impressed by their commitment to their sports and the sacrifices that they make to be the best.
Has it been crazy for you since returning to the states after World Cup?
I'm still trying to catch up on sleep. It's been a whirlwind, but it's all positive for our sport and it makes it hard to go home and hang our heads when the nation welcomed us home in such a positive, uplifting way.
How big were you into exercising before all of this?
I have always been a natural athlete, and my fitness came quite easily. However, as I progressed in my sport and saw potential to be the best in the world, it came with new levels of intense workouts -- workouts that weren't so naturally easy.
How can this idea help others?
These workouts are made for all level of athletes. We take you through them step by step on the app. It's about making the commitment and everything else is planned out for you, just like a real pro athlete. All you do is show up and work.
What else do you want to do now that you're home?
I only want to relax and be able to look back and enjoy the journey. Too often we live life at a high speed and are unable to reflect. I simply want time to reflect with those who are closest to me.