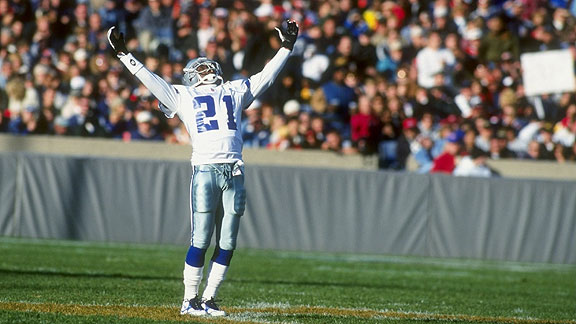 Jonathan Daniel/AllsportDeion Sanders is being inducted into Pro Football's Hall of Fame on Saturday.
Congratulations to Deion Sanders for being a first-ballot Hall of Famer -- one of the best cover guys I've ever seen. On top of his cover skills, he was one of the most exciting punt returners in NFL history.
In honor of Sanders' entrance to Pro Football's Hall of Fame, here are five of his funniest quotes:
1. "It's gonna be a lot of zeroes in that contract. You gonna think it's alphabet soup or something, all those zeroes in there."
-- Deion Sanders, on his first contract with the Falcons
2. "I felt like a deer with a hundred hunters after me."
-- Deion Sanders, after returning a punt for a touchdown
3. "Sure we're in limos. We're stars. How else is a star supposed to travel?"
-- Deion Sanders, on the Cowboys traveling around in limos before Super Bowl XXX against the Steelers
4. "I'm married to football, baseball is my girlfriend."
-- Deion Sanders, on playing in the NFL and MLB
5. "You don't go from a Yugo to a Benz, back to a Yugo."
-- Deion Sanders, on being asked if he was going back to the Falcons, after a year with the 49ers
For more sports quotes, check out my site.