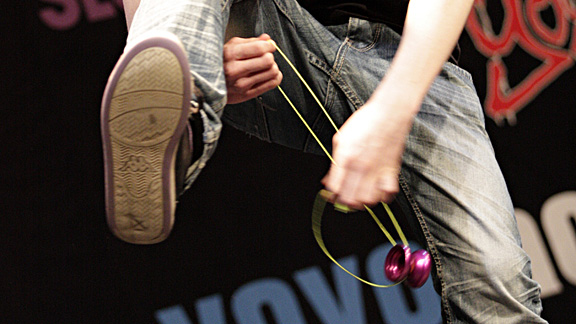 Kuba Morc/Getty ImagesIn division 4A, the yo-yo is unattached to the competitor's string.
This story appears in the Aug. 8, 2011 issue of ESPN The Magazine.
It'll take more than "walk the dog" or "around the world" for you to reach the stage of the World Yo-Yo Contest, a three-day extravaganza in Orlando beginning Aug. 4. But once your "boingy boingy" and "flea bounce" are world class, your next trick is deciding which of the six divisions to enter. They start with the traditional 1A (one yo-yo on a string looped on a finger like Grandpa used to do) and include the more exotic, such as 4A, where the yo-yo is unattached to the string. To keep you from reaching the end of your rope, we've assembled a handy cheat sheet.
UNDERSTAND THE VARIABLES
"A lot of people get onstage and wing it," says seasoned pro Nathan Crissey, who teaches a workshop at the event. "I'm not one of them. When I competed, I knew in advance my music, my outfit and which yo-yo and string I was using. I'd practice with them exactly as they'd be during competition. If I was prepping for an outdoor event, I'd practice in front of electric fans to replicate the wind."