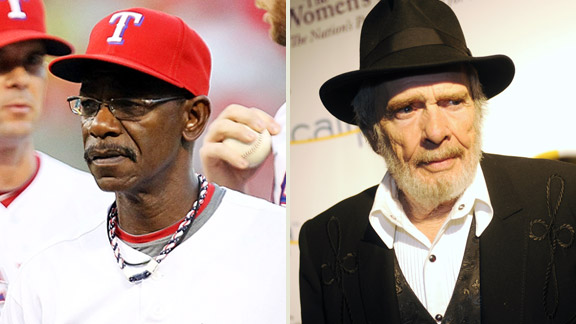 Getty ImagesRangers manager Ron Washington has now been honored in song by country legend Merle Haggard.
"That's the Way Baseball Go," a new song dedicated to Rangers manager Ron Washington, is now available for download on iTunes.
The song, which was introduced on Friday night at Rangers Ballpark, is a modification of the 1983 Merle Haggard Grammy Award-winning No. 1 hit, "That's the Way Love Goes," but changed as an homage to Washington's favorite analysis of Rangers games. The song was the idea of Texas Rangers co-chairman Bob Simpson, and the lyrics were written by Simpson and his wife, Janice, with the assistance of Jim Hodges and Jackson Yandell of Fort Worth. The song was recorded by Merle Haggard last month at his ranch in Redding, Calif.
Mr. and Mrs. Simpson provided all of the funding for the production of the song and undertook the project as a tribute to Washington, who led the club to the franchise's first World Series appearance in 2010.
The Simpsons presented Washington with a framed copy of the original lyrics during the ceremony.
The Simpsons' share of the proceeds from the downloads will go to the Texas Rangers Baseball Foundation. Information can also be found on texasrangers.com/foundation.