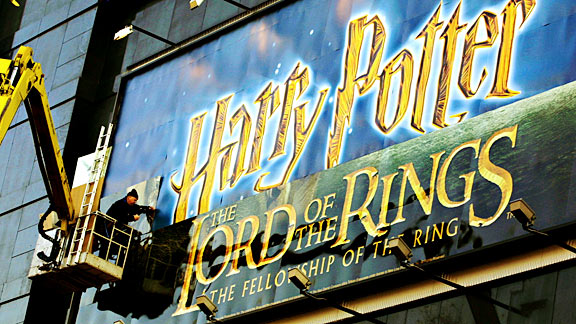 Sion Touhig/Getty ImagesSome Page 2 readers have some thoughts on a remake of "Lord of the Rings."
This must be exactly how it works in Hollywood!
("Yeah, right," says the sarcastic reader.)
No, really. We suggested a blockbuster movie called "Cowboys & Quarterbacks," starring Tony Romo in the dual roll as a cowboy and a quarterback. And just like an actual "think tank" meeting, you responded with more than enough suggestions for this week's list: "Top 10 Movie Remakes Starring Sports Figures."
I was going to prime the pump by suggesting a remake of "The Good, the Bad & the Ugly," starring Brett Favre in a biopic about the progression of his career but it wasn't needed. For example, there were more than a dozen plot lines offered involving Al Davis in some kind of "Crypt Keeper" role.
And a brief pause, as suggested by Dan K. of Boise, to remember Bubba Smith as Moses Hightower in the "Police Academy" flicks. "Thanks for the great football and the laughs," said Dan.
Also a lot of you really wanted to include Tom Brady and this goat. But you couldn't agree on if he should star in a remake of "Zookeeper," "Zoolander" or "The Men Who Stare at Goats." We rejected the idea because we do not want any of those films to be done again.
What do we want to see remade with sports stars turning them into better films? Behold:
Top 10 Movie Remakes Starring Sports Figures
10. "'The Big Lebowski' starring Ricky Williams as The Dude, Plaxico Burress as the gun-nut Walter and Al Davis as the deceased Donnie," said Carson B. of Frederick, Md.
9. "'National Lampoon's Lockout Vacation' starring David Stern, Billy Hunter and a special appearance by Dwayne 'The Rock' Johnson as LeBron James, who couldn't decide if he wanted to be in it. Five days in a van to figure out a labor deal in a trip jammed full of guys jumping through hoops," said Ben M. of Peoria, Ill.
8. "'Lord of No Rings' starring LeBron James with a cameo by Jim Gray as Gollum," said Janice H. of Palo Alto, Calif.