Want proof of James Otto's Vikings fandom?
His recording studio walls are painted purple.
Growing up in North Dakota, the 38-year-old country music singer never made it to any games. Granted, family tradition centered on Sundays together, gathering around the television to watch the Vikings, but financial difficulties made it impossible to actually travel to the Metrodome.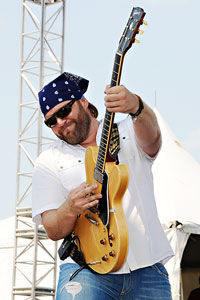 Frederick Breedon IV/Getty ImagesJames Otto sang at the wedding of Minnesota Vikings' Jared Allen.
Oh, how things have changed.
A few years back, Otto met Vikings defensive lineman Jared Allen in Kansas City when Allen was with the Chiefs, sparking a friendship that's continued to this day and has brought Otto a little closer to the game he's loved for so long.
"When he joined the Vikings, it was perfect," said Otto of Allen, whose wedding he sang at. "I was like, 'Now I can actually root for you. Now I actually like the team you're playing for.' It's one of those things, you get one of your best friends playing for your favorite team. Gave me another excuse to catch a game, in a fun way I've never experienced."
A passion born during his formative years in North Dakota has traveled alongside Otto throughout his burgeoning music career, which has included two Grammy nominations. Currently on tour in support of his 2010 album, "Shake What God Gave Ya," the Nashville resident has caught more than a little flak for his gridiron allegiances. On Saturday, Tennessee beat the Vikings in their preseason opener, 14-3.
"Don't get me wrong, I don't have much against the Titans," Otto said. "But I've been a Vikings fan as long as I can remember. I've lived in different countries and different state, and I've always been a Vikings fan and always will be."
Even with the self-described "suffering" experienced by Vikings fans in recent years -- including the time he was one Brett Favre interception away from attending the Super Bowl -- Otto just keeps coming back.
"It's certainly not Vikings' win-loss record, it's more just camaraderie," he said. "That's what sports is all about. To be with friends, rooting for the same thing, they want to see your team do well behind a common goal. I think you get attached to that feeling and that sentiment, and that's one of the things that's kept me going over the years."