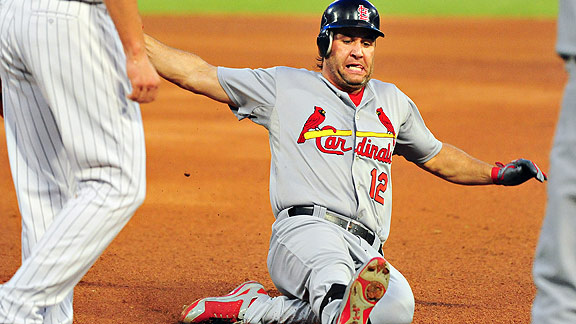 Ronald C. Modra//Getty ImagesPitchers in both leagues have learned to fear The Big Puma.
Despite his reputation as an all around good guy, observers of Lance Berkman, also known as "The Big Puma", should take note: don't be fooled, "The Big Puma" is anything but a large, tame house cat.
"I'm sleek and fast and secretive," said Berkman about why he is often referred to as "The Big Puma". "I like the description, there's no doubt about it."
Sports figures are often tied to their nicknames -- "Sweetness", "Magic", "Night Train" and "Shoeless Joe Jackson" -- these are a few from the past. They all have their own story, evoke a memory and encapsulate the person.
Today it's rare for a nickname to capture a athlete so well the nickname could have its own Wikipedia page. Sure, there are a few: "The Freak" (Tim Lincecum), "Big Papi" (David Ortiz), "Hollywood" (Cole Hammels), but the nickname, "The Big Puma?" It is three perfect words to describe Berkman, who at 6'1" 220 pounds has 355 career home runs. But how did he even get his name?
"I was doing a radio show [in 2007] with a couple of radio hosts in Houston, Lance Zierlein and John Granato," Berkman said. "They're on station 1560, in Houston."
Zierlein asked him if he ever had a nickname. "I really never had a nickname that I cared for," Berkman recalled. "They said, 'If you were going to give yourself a nickname what would it be?' Of course these guys have a history, this was all tongue in cheek, kind of joking around, and I said, 'What about The Big Puma?'"
They thought it was hilarious and the next thing you know there's a sign at Minute Maid Park in Houston about the Big Puma. I guess the listeners picked up on it and it kind of spread from there."