COLLEGE STATION, Texas -- Demand has outrun supply.
Twice.
The aptly named Zach Salesman walks into Aggieland Outfitters, just off campus in the shadow of Kyle Field, proudly wearing a maroon shirt bearing the unofficial slogan of the Texas A&M fan base: "SECede."
Because of high demand, it's the only one of its kind you'll find in the store for now.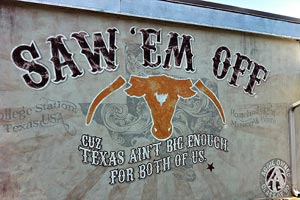 David Ubben/ESPN.com A popular sentiment in College Station these days.
Fans could choose a shirt with a de-horned Texas logo bearing the text from Psalm 75:10 and aimed at their rival: "I will cut off the horns of the wicked."
They could choose a classic No. 12 jersey, a nod to the fans' well-earned nickname of The 12th Man. A&M fans can even buy a Harry Potter shirt with one of the school's catchphrases, BTHO (beat the hell outta), applied to the Potter saga's villain: Voldemort.
They're choosing to SECede.
Salesman works in the store's corporate office, and twice, Texas A&M fans hungry for a move to college football's top conference have snapped up all his supply. A third order from the printer was expected to come in sometime Tuesday.
"We sold so many that we can't actually keep up with the numbers," Salesman said. "We're printing them as fast as we can. Basically we have people going to the printers nonstop to pick up shirts."
Such is life in Aggieland, where the Big 12 has gone out of style for bigger and (hopefully) better things.