Welcome back to another edition of Page 2 Jeopardy!, the quiz that tests your knowledge of sports, pop culture and assorted trivia. Please remember to phrase your responses in the form of a question.
(Correct questions at the end of the quiz.)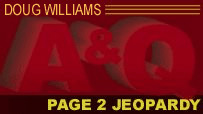 1. Answer: Champ is the name of the big, green mascot of this minor league team, located near a lake where a monster reportedly has been sighted for more than 400 years.
2. Answer: It's called the 40-40 Club, and the Dodgers' Matt Kemp is trying to become its next member, following this foursome.
3. Answer: He's an actor and collector of baseball memorabilia who once said upon winning an Emmy that he loves his wife and daughter "more than baseball."
4. Answer: This American, beloved as an actor by the Portuguese father of soccer star Cristiano Ronaldo, provided the inspiration for his son's name.
5. Answer: He's a preseason All-America defensive tackle who reported to camp this summer sporting a large, new tattoo that shows a wolverine (wearing a Michigan helmet) being crushed.
Question 1: Who are the Vermont Lake Monsters?
Question 2: Who are Jose Canseco, Barry Bonds, Alfonso Soriano and Alex Rodriguez?
Question 3: Who is Bryan Cranston?
Question 4: Who is Ronald Reagan?
Question 5: Who is Michigan State's Jerel Worthy?