All of the sports talk this past weekend seemed to be heavily slanted toward the NASCAR Sprint Cup race at Watkins Glen, and the rain, and Dale Earnhardt Jr. not winning a race since 2008. Stock car racing, as we all know, is a huge deal, and rightly so. It is fascinating drama that unfolds right (er, or left) in front of us, and at ridiculously fast speed.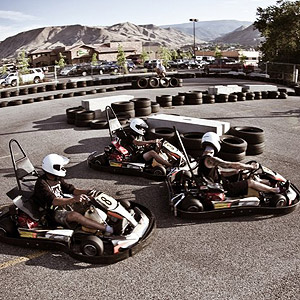 Courtesy of JP Portrait Studios Duff McKagan, right, squeezes between two competitors on the go-kart track.
Have you ever wondered where these drivers come from? How do they get to be this good, or how do they get started in the "minor leagues" of this sport of auto racing?
I tour all over the world for a living, and when I get home, I like to get up over to Small-town USA for some summer fun. One of the things I like to do with my wife and kids is go to the Wenatchee Valley Super Oval, the "fastest quarter-mile in the Northwest."
In Central Washington, one can forget about being a "hipster," or otherwise "keeping up with the Joneses." People over here are hardworking and honest, and thus will take an outsider like me at face value. It ain't about what you have done lately over here, it is about if you know how to hold a ratchet, or if you can watch a super oval quarter-mile race and pick out a good driver's technique.
If you have had trouble getting into car racing as a fan, may I suggest taking a trip out to one of the small tracks somewhere on the outskirts of where you live because this is just plain, old, good-time fun.