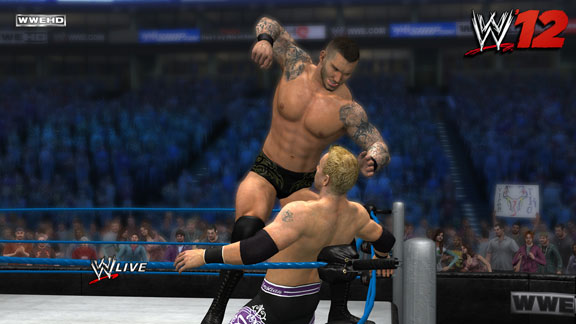 THQRandy Orton beats down Christian in "WWE 12."
Call professional wrestling scripted all you want, but the pain is all too real for the performers risking their necks every night with suicide dives and DDTs.
I guess that's why Randy Orton is a big fan of his video game doppelganger as the World Heavyweight Champion and "WWE 12" cover athlete says he can bump all night and still walk away without a scratch thanks to the power of Xbox.
And to Orton, that's almost as cool as his virtual beard.
"Man, it looks pretty sweet," Orton says with a laugh after checking out his character's new facial hair. "The game is so realistic, and I like the way it looks on me in real life, so of course I like how it looks in the game.
"I actually have all of the "Smackdown vs. Raw" games at home and it's funny, because one thing I want to do is go back and check out my character throughout the years. You can actually track the evolution of everything from my tattoos to my beard through the games. It's like a virtual scrap book."
And Orton knows what he's talking about as the man known as "The Viper" inside the ring is actually a pretty big gamer these days when he's on the road, rolling around from city to city in his Madden Cruiser-like rock-star bus, complete with Xbox 360.
And after seeing the type of damage his character can do in "WWE 12," Orton can't wait to add the game to his collection.