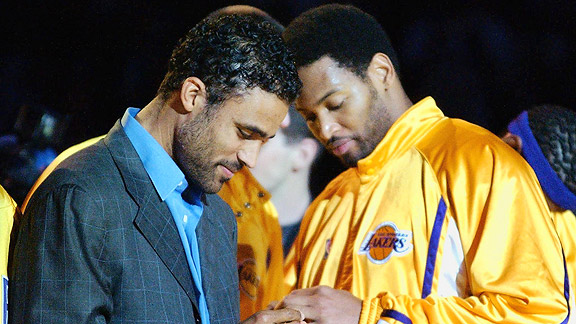 Lucy Nicholson/AFP/Getty ImagesRick Fox is admiring Robert Horry's 2002 championship ring. Wonder where that is now.
Losing a ring can hurt. Just ask Gollum. Or some people in sports.
Ex-Colt Art Donovan just got his ring back more than 30 years after its theft. Bankruptcy-addled punting legend Ray Guy wasn't so lucky, having to sell his. Packers corner Sam Shields, meanwhile, decided to prevent the problem outright.
And that's just the last few months. Throughout history, there's been quite a bit of commotion surrounding these commemoratives. Here's our top eight:
8. Robert Horry
Not a harrowing loss -- "Honestly," he said lightheartedly in a 2009 video conference, "I don't know where they are right now" -- still, Horry misplaced seven of them during a move.
7. Doug Falconer
Like Donovan, Falconer was sans ring for 30 years. But thanks to a newspaper reader, the former Ottawa Gee-Gees (yes, that's a team) DB reclaimed his keepsake from the 1975 Vanier Cup (yes, that's also a thing).
6. Kobe Bryant
Wonder if Puppet Kobe pulled this on Puppet LeBron after the most recent playoffs, too.
5. John Barresi
Without Barresi's 1973 Big Eight ring -- won with Oklahoma but subsequently stolen -- for 17 years, the late lineman's family got it back after a trooper noticed it on the hand of a pulled-over trucker.
4. Shawn Middleton
Winner of two Tennessee football titles as an assistant coach, Middleton lost his rings when a tornado flattened his house. But days later a Good Samaritan found and returned them to their owner.
3. The Fridge
Also from this year comes the story of Refrigerator Perry and 10-year-old Cliff Forrest, who dipped into his college fund to buy The Fridge's 1985 Super Bowl ring (for $8,500) -- then returned it upon hearing about Perry's run of bad luck.
2. Ray Finkle
For Ace Ventura, the ring provided a valuable lead (clip moderately NSFW). For fake Dolphins kicker Finkle, it proved the end of the road.
1. Jerry Kramer
The ex-Packers lineman got gold for helping win the first Super Bowl, then lost it in an airplane bathroom. About 25 years later, Kramer got it back in almost movie-cliche fashion: When its sale at an auction was stopped at the last minute.