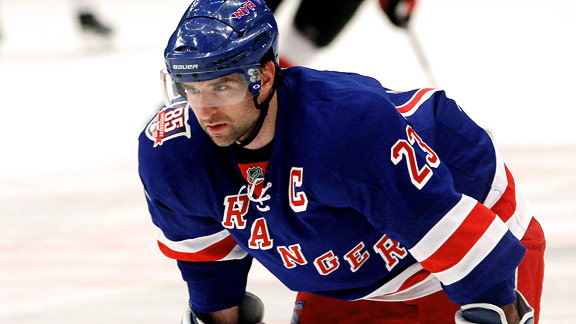 Jonathan Klein/Getty ImagesThe recently-retired LW Chris Drury had his first 15 minutes of fame in the 1989 LLWS.
This story appears in the Sept. 5 issue of ESPN The Magazine
MAJOR LEAGUERS Jason Bay, Colby Rasmus and dozens of others have a commonality: They all played in the Little League World Series. With the LLWS now under way, today's 12-year-olds could be tomorrow's stars. But not everyone stays on the diamond.
---
CHRIS DRURY, 1989
Trumbull Little League (Conn.)
Then: At 126 pounds, junkballer Drury went the distance in the world championship upset of Chinese Taipei. His 63 mph heater helped open doors to the White House, face time on Good Morning America and a first pitch before that other World Series in 1989.
Now: The 12-year NHL center recently announced his retirement.
---
MATT CASSEL, 1994
Northridge City Little League (Calif.)
Then: Dubbed the Earthquake Kids due to a 6.7 magnitude quake the team endured (in January, Northridge City fell to the Venezuelans and future MLBers Yusmeiro Petit and Guillermo Quiroz. First baseman Cassel doubled as the team clown. Some may recall his crowing moment, when he professed his love for Susan, his aluminum bat, on air.
Now: Cassel is the Chiefs' starting QB.