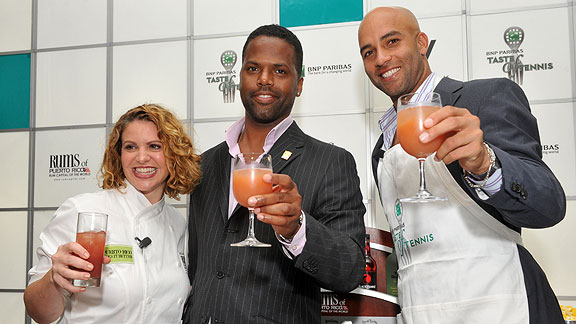 Diane Bondareff/AP ImagesChef Michelle Bernstein, TV personality AJ Calloway and tennis star James Blake lead a toast.
Tennis pro and New York native James Blake might feel right at home in the city for the U.S. Open, but when he was asked to host one of the pre-U.S. Open festivities, the BNP Paribas Taste of Tennis alongside celebrity chef Michelle Bernstein, it was a different story. Blake has never actually used his own kitchen -- ever.
"I feel like it's so easy to order in or go out and I'm so used to going out on the road that it comes naturally to me," says Blake, who got a mini-lesson from Bernstein at the event. "I never really learned how to cook."
Page 2 sat down with Blake to talk about other non-cooking related things such as what he really thinks about women grunting in tennis, his superstitions and the other James Blake -- the one who's getting all the Google alerts.
Did you know there is a musician named James Blake?
"I did! A couple friends of mine Google alert my name and he's getting very popular and they say, 'We're tired of getting these alerts every day and it's not you. It's some guy in England.' He's definitely up and coming. We'll have to meet, and one of us might have to change it to Jim so it stops the confusion."
I noticed he has the @JamesBlake Twitter handle. You didn't lock that down?
"I'm not Twitter- or Facebook-savvy at all, so let him have that. He can do all the social media stuff. I'm public enough. I don't need people knowing every time I run to the grocery store or anything."
Understandable, but your pal Andy Roddick is all about Twitter, and I have to say, he's pretty funny.