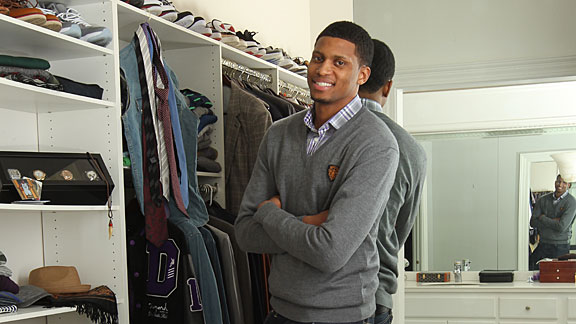 Joe Murphy for ESPN The MagazineWe didn't find any skeletons in Gay's closet. Just a lot of sneakers.
This story appears in the Sept. 5 issue of ESPN The Magazine
FEDORA
"When I was little, my grandpa told me to wear hats because body heat escapes through your head. I've been wearing them ever since. This fedora, by Bailey of Hollywood, is my beach look. I bought it while vacationing in Puerto Rico two years ago."
SCARF
"It doesn't get too cold in Memphis, but scarves are a good accessory for guys. My dad gave this one to me, but it's the ugliest thing I've seen in my life. I rarely wear it, but my dad got it for me, so I have to show it off."
BLAZER
"I'm not a big suit guy, so I wear this custom blazer. I can't remember who made it for me, but I wore it to a game when I was hurt two years ago. When you're sitting out, you have to look nice because the cameras will be on you."
PORTUGAL JACKET
"I was rooting for the U.S. in the World Cup, but Cristiano Ronaldo is a special kind of player, so I was pulling for him and Portugal too. I even wore this jacket to a sports bar, sat out of sight in the corner and cheered for them."