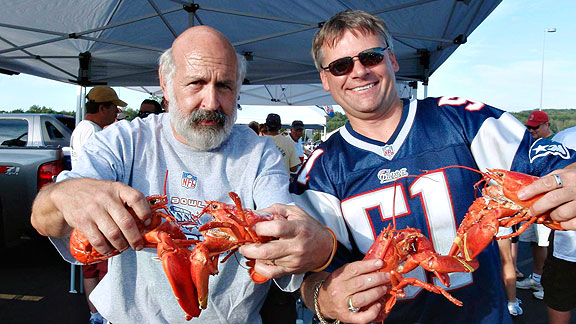 Joe Cahn From Boston to Seattle, the Commissioner of Tailgating has seen (and eaten) it all.
Joe Cahn claims to have the best job in the world, and it's tough to argue with him. Cahn, the self-proclaimed "Commissioner of Tailgating," has spent the past 15 years in the parking lots of America as the country's only professional tailgater.
"Even if I won the lottery, I'd be doing the exact same thing I am now," Cahn said. "Nobody is unhappy at a tailgate, although that can change after kickoff. It's not a job that makes you a lot of money, but you'll never go hungry."
Cahn travels the country in his RV, attending tailgate parties for 40-45 football games a year. He's been supported a host of sponsors over the years, including Coca-Cola, Campbell's, Fritos, Kraft BBQ sauce and Pepsid AC.
Cahn's lifestyle has its origins in the mid-'90s, when he sold his cooking school and endeavored to tailgate at all 30 NFL stadiums before Superbowl XXXI in his native New Orleans. A stranger to tailgating culture, his first season on the road left him a changed man.
"The parking lot is the last great American neighborhood. It's like walking through thousands of backyards with no privacy fences," Cahn said. "The difference between a friend and an acquaintance is that the friend always comes into the kitchen while the acquaintance stays in the living room. You break bread to become friends and for a tailgate, the kitchens come into the parking lot."
It didn't take Cahn long to perfect his tailgating formula. He spent his first season cooking jambalaya for anyone who wandered by his spot before realizing he could experience more by walking around the parking lot and visiting other tailgaters. He stopped cooking his own food in season two. He arrives at the parking lot as early as he can and then makes his rounds of other parties, usually sporting the home team's jersey. As most fans head into the stadium, Cahn stays behind -- he rarely attends the actual game.
Even after attending an estimated 800 tailgates, he said he's still surprised by something every time he hits a new town. He's seen fans tailgate in dump trucks and hot tubs and almost everything in between.