What better time than the start of college football season to talk with college radio stars O.A.R.?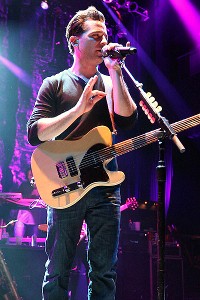 Tom Briglia/FilmMagicMarc Roberge and O.A.R. developed a following at Ohio State before word spread to other campuses around the country.
Members of O.A.R. (Of A Revolution) attended Ohio State University and remain die-hard Buckeyes fans, although many members now make their homes far from Columbus.
"Oh, yeah, Ohio State all the way. We were basically born in Maryland and raised in Ohio for a little bit," lead singer and rhythm guitarist Marc Roberge said in a phone interview last month.
The Ohio State football scandal and the forced resignation of former coach Jim Tressel haven't soured Roberge's enthusiasm about his Buckeyes.
O.A.R. have intersected with sports on many levels. Their music has been featured on network sports broadcasts, and ESPN has used "Wonderful Day," "One Shot" and "This Town" during past coverage of college baseball. Roberge was slated to participate in the Jimmy V Celebrity Golf Classic for Cancer Research in Raleigh, N.C., but couldn't attend because of Hurricane Irene.
"That's something I'm super excited for," Roberge said before the event. "I just want to see [Charles] Barkley hit the ball a few times."
O.A.R., which includes drummer Chris Culos, lead guitarist Richard On, bassist Benj Gershman and saxophonist Jerry DePizzo, released their seventh studio album, "King" (iTunes | Amazon), in early August. It reached No. 2 on Billboard's Rock Albums chart, and the single "Heaven" is No. 30 on USA Today's Hot Adult Contemporary airplay chart compiled by Mediabase.
Roberge spoke with The Life about music, the Buckeyes and other sports while O.A.R. made a tour stop in Hartford, Conn.