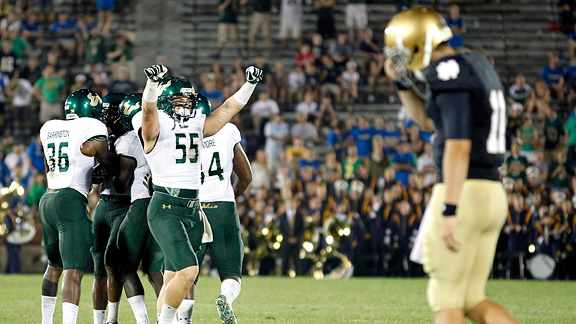 AP Photo/Michael ConroyDid a golf tee buried in the end zone help South Florida against Notre Dame?
It was a small gesture in honor of his golf-loving, Irish-cheering late uncle: Before Saturday's game at Notre Dame, a good-luck-seeking USF receivers coach Phil McGeoghan buried a tee in one South Bend end zone.
It also was the latest in a long line of in-stadium burials. They include:
CURSES
Bambino who? A Red Sox fan/construction worker tried to (further) reverse the curse during the building of new Yankee Stadium, placing a David Ortiz jersey in the cement (it was subsequently removed).
Across town, a similar thing happened with Phillies shirts at Citi Field. Allegedly.
MASCOTS
Before Boomer, Oklahoma's little Mex the Dog served as mascot until his death in 1928, after which he was buried somewhere in the Sooners' stadium.
And then there's Georgia's line of Ugas, all of which are buried in Sanford Stadium upon passing.
ASHES TO ASHES
Stadium burials aren't limited to the four-legged, as some places put people's ashes in the ground.
This is especially big in the U.K. -- where Peter Osgood (Chelsea's Stamford Bridge) and Sir Stanley Matthews (Stoke's Britannia Stadium) have been laid to rest -- but proved problematic when around 50 late Swansea supporters had to be unearthed from now-defunct Vetch Field and moved to the new Liberty Stadium.
HEAVY EQUIPMENT
Some monstrous machine get stuck during construction? Leave it! That's probably why there's a bulldozer beneath Illinois' Memorial Stadium, a rock crusher and truck under Missouri's Faurot Field (supposedly), a steam shovel below Michigan Stadium (also according to legend) and a freight train -- yes, a freight train -- buried in the ground at London's Wembley Stadium.
WAR GAMES
Sports often get linked with combat, and that's appropriate in the cases of Berlin's Olympic Stadium (World War II bomb) and -- maybe -- Memorial Stadium at Dartmouth (World War I cannon).
HEAD GAMES
It didn't stay beneath the surface, and that was the point: Before the 1982 Harvard-Yale football contest, pranksters at nearby MIT buried a weather balloon and released it mid-game. Harvard 29, Yale 29, MIT 30.
HOFFA
Or the story goes. And with Giants stadium gone, we might never know the truth...