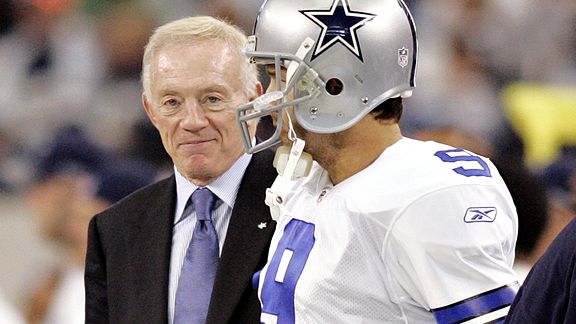 Tim Heitman/US PresswireJerry Jones is always the go-to guy for newsworthy Cowboys quotes, and he usually delivers.
He said what?
Jerry Jones said Tony Romo's performance Sunday ... was "outstanding?" "One of the best games I've ever seen him play"?
Oh, but that's just Jerry being Jerry -- one of Dallas' more outspoken characters since the area became the Metroplex.
But he isn't the only one. Mavericks owner Mark Cuban never shies from talking (except when his team is winning an NBA championship). And over in TV land, Jones' fellow oil man J.R. Ewing of "Dallas" hardly held his tongue, and his reckless ways eventually got him (and, later, Mr. Burns from "The Simpsons") shot.
So, all that considered, it's time for a quiz. Can you pick which of the three said the following?
1. "I don't lay up. I hit across the water to get to the green. And that's risk-taking.
And so, when it misses it can miss looking bad."
a) Jerry Jones
b) Mark Cuban
c) J.R. Ewing
2. "You don't come after dogs, you don't come after kids and you don't come after
The Hair."
a) Jerry Jones
b) Mark Cuban
c) J.R. Ewing
3. "Anything worth having is worth going for, all the way."
a) Jerry Jones
b) Mark Cuban
c) J.R. Ewing