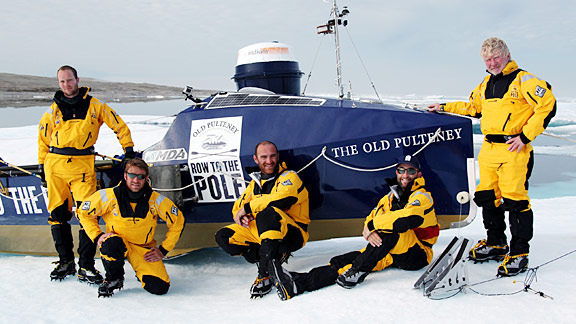 Courtesy of Mark BeaumontJock Wishart (far right) and his team rowed, rowed, rowed their boat all the way to the North Pole.
So what did you do this summer? Memorize the price of gas at every station you passed while driving to the Grand Canyon in an SUV that got 12 miles to the gallon? Breathe in certain plant scents as well as some indescribable body odors in youth hostels while backpacking across Europe? Gripe and moan that all your friends were having fun while you were stuck painting the house?
No matter what your summer involved, it paled in comparison to what Jock Wishart did. The Scottish adventurer led a six-man crew that rowed to the magnetic North Pole in the longest, most grueling summer expedition that did not include standing in line for the Finding Nemo ride at Disneyland. In becoming the first people to ever row to the pole, they oared their 9-meter-long boat more than 450 miles through icy waters, burned 7,000 a calories per day, survived subfreezing temperatures and dangerous ice floes, evaded hungry polar bears and endured the pungent body odors that can develop only after a month without bathing.
Kind of makes that Fourth of July 5K you ran seem a bit tame, doesn't it? Even if you set a personal best.
As Wishart said, pretty much no one had attempted such a voyage since Ernest Shackleton's crew rowed from Elephant Island in Antarctica to South Georgia in 1916. Shackleton and his crew, of course, did it only because they had to after their ship had been trapped and destroyed by ice. Wishart and colleagues chose to make this voyage.
"I prefer a slightly warmer climate for a holiday," Wishart said from Resolute Bay in Canada after completing the expedition. "But when you have a good bunch of guys around you and the chance to make a history, you give up some of the pleasures of the body."<.p>
You can see the route, watch video and read accounts of the trip at rowtothepole.com.