Football fans under the age of 25 probably don't realize how dominant Howie Long was on the football field.
They might know he's a member of the Pro Football Hall of Fame, but it's just as likely they know him better as a studio analyst ... or as the guy who did those Radio Shack commercials with Teri Hatcher.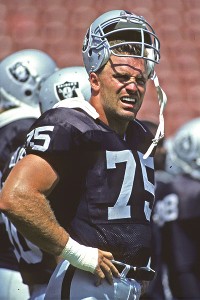 Al Messerschmidt/Getty ImagesHowie Long wasn't confident early on as a pro, but he later developed into one of the most feared defensive linemen of his era.
So in case you fall into that category, here's Long's playing career in a nutshell: played 13 seasons on the Raiders' defensive line; was a starter for the Super Bowl XVIII champions; selected to eight Pro Bowls; compiled 84 official career sacks; inducted into Hall of Fame in 2000. He was a disruptive force despite often being double- or even triple-teamed by opponents.
Regardless of age, football fans should be interested in what Long had to say about the Raiders, fellow analyst Terry Bradshaw and former teammate Lyle Alzado during a recent conversation with Page 2. Here's what transpired:
Page 2: Fans often think of pro athletes as supremely secure and emotionally invincible, but you actually struggled with confidence early in your career. What was the turning point for you in that regard?
Long: I don't know that you ever really turn the corner on that. It's not a lack of confidence as much as it's an insecurity. I think it's what drives a lot of great players -- the concern that that play, that series, that game wasn't good enough.
If you hadn't succeeded in football, what line of work would you have pursued?
Most people would say they'd be a teacher or something like that. I'd be lying to you [if I said that]. You know, I'm not sure. ... Maybe law enforcement. Maybe work in what was at that point the family business, which was working at Boston Housing Authority. Who knows? It's not like I'm a Buddhist or anything, but I think we've all got, to a certain extent, a predestined life. My journey took me from Boston to Philadelphia to Oakland to Los Angeles and then as a broadcaster. I've been fortunate. ... This is my 31st year as part of the NFL, and it's been a great ride.
What do the Raiders need to do to return to greatness?
I think, like a lot of teams, you have to have a franchise quarterback -- a quarterback that can really compete for a championship with. I think the last time they were legitimately in contention for a championship, they had Rich Gannon. When I played, it was Jim Plunkett. More so today than ever, if you don't have one of those that can give you a legitimate shot, you're not going to be competing for a championship.